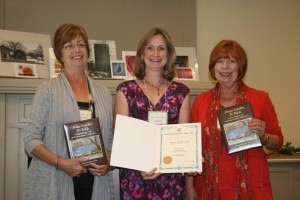 Geneva Garden Club President Julie Maturo presents the National Garden First Place award for Best Publication to Ginny Dushney and Annette Barnes for their outstanding achievement in producing the club cookbook From Garden to Table.  In April 2011, the cookbook was also awarded First Place by the Garden Clubs of Illinois in the Cookbook category.
The cookbook, organized by seasons in a three-ring binder, contains a collection of 250 recipes, garden tips and garden inspired tablescapes.  The membership contributed their favorite recipes while club member Kathy Johns' original painting "Dining along the Fox" is captured on the cover.  The book committee staged and photographed table settings along the River and at member's homes.  Local Chefs and restaurants, whose fame far exceeds well beyond Geneva included their offerings as well.
The book is still available in limited quantities at The Spice House in downtown Geneva, cost is $20 per book.  A special thanks to the local merchants and the community for their support in making this endeavor a success.